The Sloth novel will be out soon, and a new world will open itself to us: we'll know more about the daily life of Elphes, their culture, and how the Lucifenian Revolution changed the world.
Still, there are many questions left unanswered for now. In this little post, we'll analyze the events surrounding Margarita's sin and the people around them.
Be aware that no analysis is perfect, and I'm throwing a lot of my own speculations here!
City of Toragay – Overview
As the Wiki itself states[1], Toragay is located near the Lake of Amusement, and it was ruled by the Felix family. We also know that they lost their noble title after the Lucifenian Revolution. One of its members, Margarita Blankenheim, would eventually commit genocide after being possessed by the Sin of Sloth, eventually turning it into a ghost town.
Sloth Novel – Overview
The Sloth novel, formally known as Deadly Sins of Evil: Gift from the Princess who Brought Sleep[2], talks a little more in-depth about Toragay, Margarita Felix (later known as Margarita Blankheim), and various new characters. The event was first presented to us as a song, first released in May 23, 2011[3].
The Sloth novel also introduces new characters, such as Hanne Lorre[4], and Heidemarie Lorre[5]. Or are they new, really? Well, more about that in the future.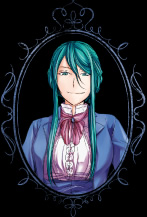 All right. Now that you know roughly what is going on, let's talk about big, big questions plaguing our mind!
Akuno_p's Inspiration
While it is not possible to know exactly what Mothy used as his source of inspiration unless he confirms it, we can infer what he used as his source of inspiration by carefully analysing the symbolism he uses in his novel. More importantly: has such sybolism happened before in his works? What patterns do we have around?
Toragay Incident
It is unknown for now what Toragay's gas clouds really mean. From what we see in the novel's cover, however, we know they're anything but friendly, happy clouds! Do people die from the poisoning?
We also know that Elphes were racist back in Rilliane's time; it seems it eased between her reign and the revolution, but there are certain events that could have contributed for renewed racism in Elphegort.
If we combine the somber office clothes Heidemarie uses, plus the gas clouds, plus racism and people unable to leave, we have an indication the Toragay incident was probably inspired by Nazi Germany's gas poisoning in World War II[6] – more particularly, the Holocaust [7].
Of course, Margarita is not racist like Toragay people – she puts everyone to sleep, regardless of their gender, race, political positioning, or age!
Sleepless
From the links shown above, we learn that Margarita suffers from a condition called "sleepless". It has affected her ever since she was born.
I can't find the exact quote, but someone in the forums mentioned the real-life condition fatal familial insomnia. What is that?
From the little we know about it[8], fatal familial insomnia is a genetic condition that dates back from 1765. The age of onset varies from 18 to 60 years of age, with an average of 50. Affected people die from 7 months to 36 months after the onset. Sick people suffer from panic attacks, phobias, hallucinations, etc; in short, this condition leads to madness. Fatal family insomnia also has no cure.
That's not the worst part of the disease, though: even though it is a genetic disorder, it is related to the mad cow diease, which means that any person ingesting remains of other people could be infected[9].
What do "Sleepless" and Fatal Familial Insomnia could have in common?
As we know, sleep is very important to the regulation of the body and the creation of new memories in the brain; therefore, not being able to sleep is very harmful.
If Margarita was unable to sleep and there was no cure to her condition, chances are her family resorted to a sorceress to help with it, and this sorceress helped Margarita create her "medicine". It's possible Margarita was on the verge of death once, as we do have another sinner that had a similar fate[10].
Although people would need to eat corpses in the real-life disease to become infected, in fiction it doesn't need to be so: Mothy could easily have written the condition to spread through the clouds Margarita herself seems to spread.
Cloud Contradiction
According to some Wiki users, the idea that Margarita would use clouds to make people insomniac seems convoluted and counter-intuitive; and indeed, it is.
Why would Margarita, the one who puts people to sleep, spread clouds to take away their sleep?
The reason is that, by doing so, this solves an easy contradiction in the story. We do know, in Margarita's PV, that she committed suicide, very likely drinking Gift herself[11]. Here's the contradiction:
If the clouds are Gift, Margarita, as the source, would become heavily exposed to the fumes, and this would kill her before she could commit suicide. How, then, can she drink Gift without falling ill? If the clouds are what make people insomniac, the contradiction vanishes: Margartia cannot die from her own fumes, as she had "Sleepless" ever since she was born; regular people, however, do get insomniac to the point of dying, and she "puts them to sleep" with Gift!
In other words: people are doomed either way; however, by drinking Gift, their death is more peaceful.
It's very likely Margarita was not aware she was spreading fumes at first, and that she truly believes she was helping people; however, she realizes in the end that she killed everyone, and "puts herself to sleep" as well with her medicine. This also has the implication that, instead of simply believing people can't sleep, Margarita literally sees insomniac people who can't sleep.
Partial Conclusion
I was hoping to do a more throughout analysis of Margarita's novel, but it seems that the topic is quite extensive. Novels themselves are full of symbolism, and discussing about what each one could be can be quite hard.
Nevertheless, in this post we have successfully given a brief overview of Toragay, Margarita, her overall condition and Gift. I plan to write more extensively about the events surrounding Toragay in the near future.
References
Community content is available under
CC-BY-SA
unless otherwise noted.