Yo, you can call me Octo.
There used to be a lot more to this bio here but a lot of it felt outdated and not really important except possibly to the people who've known me the longest on this website. I saved it all somewhere else instead.
I joined this wiki at least four years ago, but I've been a fan of the series for even longer than that. One of the first mothy songs I ever heard, in fact, was Moonlit Bear about six(?) years ago, and I started finding a lot more almost at random. Since joining the wiki I did a lot of editing to improve its quality and keep it up to date with new releases. Nowadays, I'm one of the admins here, and my work has pretty much gone unchanged.
I'm a lot slower now because of carpal tunnel issues, work, etc. But I still make sure to check in at least once a day and I still make plenty of edits. If you need to contact me, shoot me a message on my message wall or come on to the live chat if I'm there. I also have an account on tumblr at octosan.tumblr.com, although I don't post a lot of admin-y stuff there.
Now then, in case you're interested, here's some favorites:
Favorite Series
Edit
Original Sin Story: I have a weakness for tales that probe into "where it all began" with multimedia stories like this. I love all the songs in this series in my own way, and I love how many other parts of the saga harken back to this one story. Especially with the newest songs, it feels the most tragic to me with all that's lost and destroyed--the repercussions extend even to the "end times" of Evillious.
Favorite Characters
Edit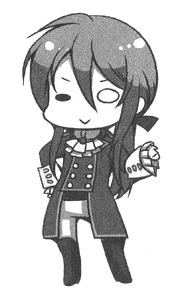 Ghhhh can't do it, it changes too much. So many minor characters too...the list would be only a little bit shorter than the actual list of characters on the wiki. I might include the characters that rarely get removed from the fluctuating list though. In no particular order:
Gammon Octo
Kiril Clockworker
Sateriasis Venomania
Banica Conchita
Yarera and Zusco
Minis Stoup
Seth
Elluka Clockworker
Kaidor Blankenheim
Keel Freesis
Favorite Songs
Edit
Master of the Heavenly Yard
Whereabouts of the Miracle -Catastrophe-
The Song I Heard Somewhere
Project 'Ma'
Escape of the Witch Salmhofer
Drug Of Gold
etc.
Community content is available under
CC-BY-SA
unless otherwise noted.