NinjaClockworker
Other Names
Ninja
Shinobi
Ninjazz (by Pika)
Nin Nin (by Dark)
Vocaloid
Biographical Information
Born
June 23rd
Personal Items
Ma-po tofu
Sweaters

Classification
Human
Family Members
Pikabro
GuarGuar
Lem
Gender
Male
Occupation
Professional Weeb and Editor
Affiliation(s)
None... I am a Ninja duh
Admin Information
Times banned
1
Time Zone
Eastern Time (EST/EDT)
Hi, I'm Ninja! So, you came here to learn about me, eh? Well, have fun.
I initially discovered Evillious after I listened to The Lunacy of Duke Venomania. Being the excited, younger me that I was, I made an account soon after researching (not very thoroughly) and decided to begin editing. My first page was for "White Brick and Black Mourning Dress" (long deleted by now, rip), and I got into some hot water (something that happens more than you think). But, it was all settled out, and I've just been a causal editor since. The fandom was pretty cool when I joined, and I've watched it grow and gain followers over the years. Right now it seems that we're on the decline, but I think it's a cycle, so a new wave will come soon enough.
During my time here, I've grown to know some pretty cool people, and have known some pretty cool people. The community is very tight-knit, and I think that's a neat thing you don't see in most other communities. We've formed a strong network, and I'm happy to be a part of it.
Usually I freelance ed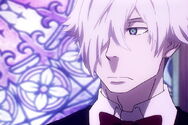 it, just making quick fixes to pages I see that need a bit of correcting. Sometimes I'll take part in that event of assigning pages to write, and I usually procrastinate but I wind up getting them submitted, anyhow. Something that I do alone is the Composition sections on songs, since apparently there's no one else to do it, pfft. When Servy needs links checked, I usually get picked to do it (usually because I'm always around, lol). I have done a bit of Appearance box work, but usually I'm not available to do it, or someone more dedicated handles it.
When I'm not doing wiki work, I can cook and clean (I'm pretty sure someone's said I'd make a pretty good housewife, har-har). I also like to write in my free time, though I don't know how good I am at it. I'm also trying to save up for Vocaloid software (because I'm broke, rip) and maybe make my own songs later on.
Favorite Songs and Characters
Edit
This isn't in any particular order, just a list of songs and characters which I like.
Watching Us (not necessarily EC, but!)
Characters
Edit
The Squad
Edit
A group of some of the people I hang out with a lot/am very good friends with.
Ah, such a nice boy! GuarGuar is the one friend you can count on to always be there (because chances are he's usually on chat). He and go way back, I think, kinda hard to remember. We like the same stuff, too so it's always fun to catch up with him and try to get him into new things as well. Someday I hope we get to meet, then we can go have ice cream and play video games.
Pika is a lovely Pika! We both like the same things, and it's fun to talk to them. They think I'm some sort of magical "Google" thingy when really I just have too much free time, hahahaha. But I'm glad to be considered a magical institute of knowledge about stuff, at least I can share knowledge with someone. We used to talk only a little bit but recently we've been talking more and more, and we've grown pretty close. Pika's pretty great, and you should totally give them berries.
The sassiest person on here, pfft. Lem is a cool dude, and he's not too serious - most of the time anyway. I don't know how it happened, but we became really close a while back. He's very good at what he does, even if it is mostly procrastination. Our interests are kinda similar, but I think what's different about us helps us connect more. I'm glad to have him around, even if he doesn't come on much anymore. (Plus I still talk to him, just not here lawl).
She's pretty great, what can I say? I knew Abyss way back when she first joined, it was pretty cool. Some time after she joined, she got hacked and had to change her username, but everyone still remembers her as Abyss. She and I are both fans of Love Live, and we like to make memes about it too. She's kinda busy all the time now so she doesn't come in always, but it's fun to be around her.
List of Interests
Edit
Pokémon
Kingdom Hearts
Persona
Project DIVA series
Legend of Zelda
Final Fantasy (hyped for that VII remake)
Love Live!
Vocaloid music
Lana Del Rey (Gotta love that soft grunge amirite)
Marina and the Diamonds
Florence + the Machine
Gesu no Kiwami Otome (You've never heard of them, *hairflip*)
Kyary Pamyu Pamyu
Kenshi Yonezu (aka Hachi)
Anime
Studio Ghibli movies
Higurashi no Naku Koro ni/Kai/Rei
Rozen Maiden (2013 one)
Death Parade
JoJo's Bizarre Adventure
Any Key anime (Clannad, Angel Beats,etc.)
Manga
Noragami
Attack on Titan
Assassination Classroom (plan to read)
Black Butler
Stuff by Junji Ito (Horror manga, not for everyone)
Community content is available under
CC-BY-SA
unless otherwise noted.