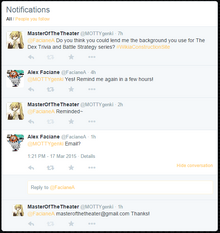 Arrived on Febuary 25.
Adopted By Pika and The Wicked Maid on March 2.
Has done nothing else of importance.
A spoiled brat.
Pika was told to edit this profile- so edit it she shall to her heart's content~. <3
Anna came to the EC wiki on Februray 25th 2015, where she made herself known after seeing some automated messages and proceeded to be greeted and welcomed. Anna eventually changed her avatar from an epic picture of Anna the Merchant who will take your money now to a picture of Germaine. However, Germaine did not last long, as the Doll Director is the true leader, and is now her current avi. Her name also changed from 元気じやない to Master of the Theater on February 26th, and she will never be able to change it again. ;o;
I feel like I should add more here but I don't know what to put. orz
Community content is available under
CC-BY-SA
unless otherwise noted.