Are you looking for the song titled The Servant of Evil?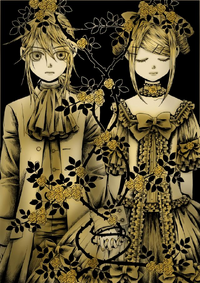 The Servant of Evil
[1]
is an ongoing serial manga originally published by Comic Rush on September 25, 2010. The story is a non-canon rendition of the
song
sharing the same name released by
Akuno-P
. The manga's illustrations are drawn by Nekoyama Miyao. After the release of its first volume,
[2]
the manga was discontinued before being relicensed by Comic Spica in 2014 as a web comic on Pixiv;
[3]
it has since restarted circulation on Denshi Birz on July 31, 2015.
[4]
Volumes
Appearances
Haku
Gackpo
Kaito
Len
Lord Gondor
Luka
Mei
Miku
Philandering Uncle
Rin
Yellow Kingdom King
Yellow Kingdom Queen
Trivia
Conceptualization and Origin
Gallery
References
External Links