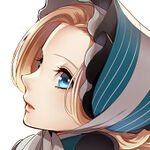 Suzunosuke,[note 1] also known as Sagula, is an illustrator for the Evillious Chronicles. Collaborating with Akuno-P early on in his career, she has contributed several times to the series, providing illustrations for both song PVs and novel covers.
History
[
]
Early Work
[
]
Suzunosuke began her contribution the the Chronicles when she was among the artists that contributed to the PV of Miniature Garden Girl. She would later have a solo collaboration with Akuno-P in June 2009, illustrating the entire PV for Moonlit Bear. The project was a success for both creators, further cementing their popularity in the community. Her next collaboration would be Heartbeat Clocktower in October of that same year.
After her contribution to The Daughter of White PV, she would later illustrate the PV for The Lunacy of Duke Venomania which became one of her most famous works. That same year, she also illustrated the covers for the Prelude to Forest and Evils Forest albums aswell as doing interior illustrations for the merchendise album Evils Kingdom.
Expansion into Novels
[
]
Suzunosuke illustrated for a novel for the first time when she drew the cover art for The Daughter of Evil: Wiegenlied of Green which was released on February 25, 2011. The following year, she created an illustration of Leonhart Avadonia in the artists' comments section of The Daughter of Evil: Praefacio of Blue, thanking mothy and everyone for letting her be part of The Daughter of Evil series. Later on, she also contributed to the illustrations in Epic of Evil: The Daughter of Evil Fanbook and The Daughter of Evil Schedule Book 2013. By the end of the year, Suzunosuke illustrated the cover of the novelization of her famed PV Deadly Sins of Evil: The Lunacy of Duke Venomania.
Published Works
[
]
Trivia
[
]
She owns a black labrador retriever named Nana, whom she occasionally shares photos of on Twitter.[1]
She is a fan of the Mother series, owning several pieces of merchandise such as figurines,[2] and journal covers.[3]
She enjoys the music of Skyrim,[4] and is a fan of the game Monster Hunter.[5]
Gallery
[
]
References
[
]
Notes
[
]
External Links
[
]