Are you looking for the song titled Re_birthday?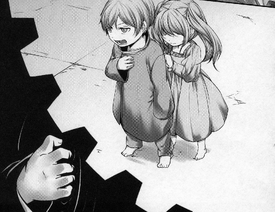 The
Re_birthday
[note 1]
was a
magical
event that could be initiated by a set of
irregular
twins. A powerful spell, it was intended to recreate worlds by way of reformatting individuals'
spirit data
.
Mechanics
Edit
A Re_birthday typically needed a set of irregular twins and a Black Box.[1] The spell was usually activated by saying its name aloud and the user putting their hand on their chest.[2] If done correctly, the Re_birthday could produce an entirely new world with its "reformatting" power. However, if done incorrectly, the Re_birthday could, at least, "reformat" individuals within the user's immediate vicinity. With the case of Hänsel and Gretel, who were merely incomplete copies of Behemo and Levia Barisol, their Re_birthday could only "reformat" the spirit data of the earthlings and turn them into the Demons of Sin.[3] Another application of the Re_birthday was their reincarnations, Arte and Pollo, cursing Ron Grapple to be continually reanimated; this could only be reversed by another set of irregular twins.[4]
Curiosities
Edit
Appearances
Edit
References
Edit
↑

再誕(リ・バースデー)
Community content is available under
CC-BY-SA
unless otherwise noted.