"...Y–Yukina... Your Mama has... deceived... many people... until now..."
―Mikina Freezis to her daughter, Yukina

Mikina Freezis, born Mikina Sfarz, was an aristocrat hailing from the Kingdom of Marlon and the wife of Keel Freezis. Due to their financial troubles in Elphegort, Mikina unwittingly became a pawn of Prim Marlon and Abyss I.R., inadvertently making a contract with the Demon of Greed. Through her husband's information network, she secretly aided the Queen Dowager's machinations while trying to protect her family.
History
[
]
Early Life
[
]
"My jewels, gold coins, the mansion, servants... I had made the decision to abandon everything that I had been given from the moment I was born."
―Mikina recalling her younger years to Yukina
Mikina was born into the noble Sfarz Family on December 4, EC 473, and later became longtime friends with Keel Freezis. In EC 484, Mikina attended a royal banquet and met Prince Kyle Marlon,[1] terrified by a cat during the banquet.[2] After becoming pregnant with Keel's child in EC 491, Mikina's father objected to the relationship; fearing her overprotective father would ruin Keel with his connections, Mikina abandoned her noble life and fled to the Kingdom of Elphegort with Keel and her unborn child, the two marrying and moving into Elphegort's capital city, Aceid. On her eighteenth birthday, Mikina gave birth to baby girl and the couple named her Yukina.
Setting up a general store, the couple faced severe discrimination from the native Elphe populace due to their foreign backgrounds, their business failing despite their best efforts. Barely surviving, Mikina was dismayed when she became pregnant again in EC 492. Unable to afford the child, she traveled to Yatski on rumors that a shaman there could give her an abortion. During the journey, the miserable Mikina tripped and fell down a steep cliff, knocked unconscious. She later awoke to find herself rescued by the Queen of Marlon, Prim Marlon.[3]
Deal with Evil
[
]
"Shaw is mine. When that thought struck in my mind, suddenly my father's body became engulfed in blue flames."
―Mikina
Mikina confessed all of her troubles to her rescuer and, in response, Prim gifted her with the Marlon Spoon, telling her it would bring her good fortune. Although skeptical, Mikina returned home with the spoon. A day after her return, unable to help in the store due to her recovery, Mikina was shocked to learn that Keel had received a customer. Over the next month, their entire store sold out, and the couple eventually learned that the customer had been King Thorny Elphen, whose patronage distinguished them throughout the country. The following year, Mikina gave birth to her new baby, a son named Shaw, and she hired an Elphe nanny to help take care of him.
Over time, the store's reputation spread and it even began to receive customers from overseas.[3] In EC 494, when Keel was away, Mikina discovered her father and several of his men in the house, having been allowed in by Shaw's nanny. Her father explained that Marlon was in disorder with the deaths of several dignitaries; when Mikina refused to return with him, he prepared to abduct Shaw to be the new heir to the Sfarz family. Enraged and desperate, Mikina unwittingly forged a contract with the Demon of Greed in the Marlon Spoon; with it, she unleashed magic flames and she killed her father, his men, and the nanny, while scorching Shaw's back.
Mikina traveled to Marlon and gained an audience with Prim, who explained that the spoon was actually a vessel of sin and that she had inadvertently made a contract with the demon. Told her family's souls would be devoured by the demon if she did not cooperate with Prim and Abyss I.R.'s schemes, Mikina reluctantly agreed to comply. Receiving all instructions from Abyss via a Very Amazing Green Onion or Ney Phutapie, she replaced her father as a supporter of the Queen's conspiracy.[3]
New Maids
[
]
"There were two newly hired girls you brought, weren't there? And I heard you, who hates Elphes, brought a girl with green hair, but is it true?"
―Keel to Mikina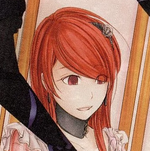 After Keel expanded their business into the Freezis Firm and acquired a title of nobility with their newfound wealth, Mikina returned to her aristocratic lifestyle, moving into a mansion in the Northern District.[3] In EC 495, Keel and Mikina had their third child, Aile;[3] and Mikina raised the ill child alone in light of what happened with Shaw's nanny.[4] All the while, she secretly helped fund Queen Prim's ambitions using the Freezis Firm's wealth.[3]
In EC 499, Abyss I.R. gave Mikina the Venom Sword as part of her plans and she gave it to her husband for his collection.[3] That November, as several of their staff resigned, Mikina took their place picking up rollam bird feathers from the Central District inn. While there, she was served tea by the Elphe girl Michaela, and the two chatted. During their chat, Mikina noted their recent shortage of servants and learned that Michaela and her friend were looking for jobs. Not long after, Mikina was shocked to meet Michaela's friend, Clarith, seeing that she was one of the rare members of the Netsuma Clan.
Mikina decided to hire Clarith, sympathizing with her evident difficulty finding work as a Netsuma; conversely refusing to hire Michaela due to her being an Elphe, Mikina quickly tried to cover her bias by claiming Michaela's beauty could cause trouble. Despite this, she reluctantly agreed to hire them both when Clarith insisted she hire her friend. Once she collected the rollam bird feathers, Mikina returned home with the new maids and assigned them to a month-long trial period.[5]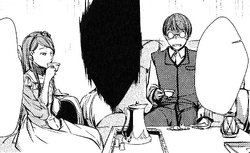 The next day, Mikina noticed a formal invitation had arrived for Keel; that night, she shared a midnight snack with her husband while he was on break from work. As she set up their tea, she broached the subject of the invitation and learned it was from Princess Riliane Lucifen d'Autriche of Lucifenia, who was having a birthday party; Mikina agreed to accompany him to the party, though noting they would be leaving Yukina alone.
The conversation then turned to the new maids she had hired, the two discussing her hatred of Elphes due to their past circumstances and how Michaela was a competent maid regardless. She also, to her embarrassment, admitted to the amused Keel how she'd been worried about the girl's beauty tempting him.[6] The next day, Mikina and Keel assigned Clarith to take care of Yukina, due to her literacy and current availability.[5] On December 4, Mikina gifted a notepad to Yukina for her ninth birthday.[7] On December 27, Mikina attended Princess Riliane's banquet in the Hall of Mirrors along with Keel and Bruno.[6]
Green Hunting
[
]
"I was the one who told her whereabouts to Ney. It was incredibly painful to face Clarith, who had no idea of what I had done."
―Mikina confessing her guilt over Michaela's death
After Keel debuted Michaela as the "Diva of Elphegort" at his monthly banquet in January, EC 500, Mikina supported the girl's new role for their business.[5] Later on, the Freezis couple learned King Kyle had rejected his engagement to Riliane in favor of Michaela and that the princess was hunting for the girl's identity. Mikina attended a subsequent meeting with Shaw, Michaela, Clarith, and the rest of the staff as Keel explained the situation. When he finished, Mikina assured Michaela that the family held no ill will towards her for Kyle's actions and promised they would protect her as one of their own.
At the start of the Green Hunting, Mikina, her family, and the servants all gathered in preparation to flee; when Michaela and Clarith began to leave, Mikina gave Michaela a cloak to cover her hair during their escape.[8] Later, the Lucifenian army found Mikina and her family, arresting and imprisoning them at the Lucifenian Royal Palace's dungeon.[9] During this time, Mikina was forced to tell Ney Phutapie the location of Michaela's hiding place, leading to Michaela's assassination.[3] Following their release, the family was placed under house arrest at Corpa's mansion in Rolled.
A few days later, Mikina saw two members of the Lucifenian Resistance arrive to meet with Keel. Shortly after, Clarith arrived at the mansion and the two shared a warm reunion, with Mikina comforting her over Michaela's death.[10] Wracked with guilt,[3] she sent Clarith away to go check on Keel.[10] Later on, Mikina advised her troubled husband to support the Resistance, knowing it would help in Prim's desire to overthrow Lucifenia and install a Marlon regime there.[3] She was relieved later when Clarith quit being a servant and went to live at the Held Monastery along Lucifenia's coast.[10]
Return to Marlon
[
]
Shortly after Clarith's departure, Mikina traveled to Marlon with her family and moved into the Freezis Mansion there. While there, she met Elluka Clockworker and Gumillia when the two arrived to return Keel's property from their Aceid home.[11] As Kyle's policies in Lucifenia became more and more aggressive in the wake of The Daughter of Evil's execution, Mikina convinced her husband to not oppose his militaristic actions.
In EC 505, Mikina began visiting the monastery Clarith worked at as per Abyss' instructions in order to monitor Rin, who was secretly Princess Riliane, and to search for a vessel of sin there.[3] On her first visit, Mikina and her young servant got lost looking for the monastery along the coast; she eventually ran into Rin, who led her to the convent herself.[12] Over the next six months, she made multiple visits to the monastery, mentioning to Clarith how she was looking for a vessel of sin and gifting her with Yukina's books.
When Keel discovered Abyss I.R.'s existence and began investigating her and Prim, Mikina became anxious she would be found out and Keel would be killed.[3] After Yukina ran away from home to travel Evillious and later returned, Mikina received her in her room and happily reunited with her child; as she played the harp for her daughter before dinner, she brushed off her apology for running away. She then watched Aile come in to greet Yukina, tending to the child when she overexerted herself. After Shaw arrived and urged them to the dinner table, Mikina went to the dining room with her children.
During the meal, Mikina ate and then heard a drunken Germaine talk about how she and the rest of their group had been attacked by a band of pirates and a giant octopus, to her horror. She continued to watch in shock as Germaine talked about the danger Yukina and Shaw were in, before the two children quickly had the entire table retire for the night.[4]
Puppet of the Red Cat
[
]
"Yukina... Yukina... Mama has... I... Oh, God... I... confess—"
―Mikina
Later, after Elluka recovered her body from Abyss I.R., Mikina found Abyss in her true red cat form and was induced to keep her, following the cat as it wandered throughout the mansion. When the cat intruded on Gumillia's room, Mikina was alarmed to see Elluka. With Yukina also in the room, she insisted to her daughter they would be keeping the cat.[13] Later on, Mikina played with Abyss, greeting Kyle when he left the mansion for the royal castle.[2]
Shortly after Kyle, Keel, Yukina, Elluka, and Gumillia left for Lioness a few days later, Abyss I.R. took Mikina as her medium. Donning the Almoga Mobarez mask from Keel's storehouse, the mage used Mikina's body to pursue the group, knock Keel into a coma, and kill Ney before running off with the vessels of sin.[14] As Abyss I.R. fled to Lucifenia, Mikina realized she planned to use the previously possessed Rin as her next medium.
The sorceress arrived at the Held monastery and was later discovered by Germaine and Yukina. When Abyss attempted to reveal Mikina's misdeeds to Yukina, the woman's consciousness resurged and she struggled to hold her back, only for the sorceress to take her over again and compel her to confess, herself. Despite her resistance, Mikina was forced to tell Yukina everything: her past troubles, her contract with the Demon of Greed, her involvement in Kyle's possession and Michaela's death, and her ability to use the vessels of sin, like Rin, due to having once been possessed.
As the Demon of Greed started to take hold of her soul again, Mikina tried to get her daughter to flee before Abyss regained control and used her body to do combat with the Marlon Spoon. Once Germaine skewered Abyss I.R.'s true body, the cat, Mikina was freed of her control and rendered unconscious.[3]
Later Life
[
]
Afterward, Mikina returned home with Yukina and spent much of her time caring for her husband. After Keel's death, she abandoned the family inheritance and, without telling her children, fled to live quietly in an obscure home in Marlon. As her death drew near, her children rushed to her side, having learned her whereabouts. Surrounded by the family she loved, Mikina passed away.[15]
Legacy
[
]
Mikina's accomplishments with Keel lived on with their son Shaw; the Freezis Foundation stemming from his corporate conglomerate had a major impact in politics and business in the century following her death.[16] By the seventh century EC, the Foundation was entrusted to investigate the Toragay Epidemic and their connection to Père Noël. In the wake of her and Keel's death, Shaw resolved to eradicate the vessels of sin that ruined his family and gave his full support to Elluka Clockworker's mission in finding them.[17]
Personality and Traits
[
]
"I shan't say goodbye. And you'll return to this mansion, understand? I still have work for the both of you."
―A teary-eyed Mikina to Michaela and Clarith
Mikina was a kind and dignified, but conflicted individual. Like her husband, she held her family in high regard and was willing to make steep sacrifices for their well-being, even willing to go so far as to collaborate with Prim and Abyss I.R.'s schemes to ensure their safety. Her feelings for her children, like Shaw, even manifested at one point as a form of greed, which left her susceptible to the Demon of Greed.[3] To some extent, Mikina extended this care of family to the household staff,[8] although she was nonetheless a strict employer.[5] Her independent nature and relationship with Keel put her at odds with her Marlon family, however.
Although doing it for her family's sake, Mikina was opposed to her collaboration with Abyss I.R. and Prim, burdened with guilt over the things that they forced her to do;[3] this guilt became unbearable when Keel was brought to harm, and drove her to becoming a recluse later in life.[15] She was as a result deeply ashamed of her actions and of her possession by a demon, only wishing to hide it from her beloved family.[3] Mikina harbored a hatred of Elphes due to the hardships she faced which drove her to her forced collaboration, although she was in reverse sympathetic to foreigners in Elphegort.[5]
Because of her background, Mikina was normally elegant, proper, and somewhat imposing. She was also a determined woman that fought hard through most difficult circumstances; although succumbing to despair while working for Abyss and Prim, she promised to move forward with a more positive outlook once freed.[3] Contrasting her working for the red cat sorceress, Irina, Mikina was noted to hate cats.[13] She also had a love for gardens and had particular specifications to the layout.[5]
Skills and Abilities
[
]
"Even the wealthy merchant, Lord Keel, is said to be under the thumb of his wife."
―An aristocrat speaking about powerful women
As a businessman's wife, Mikina was extremely perceptive and could quickly surmise much about a person's character or lifestyle after briefly analyzing them. Like her husband, Mikina was adept at socializing with others but could become ill-tempered when pressed about topics, especially regarding her feelings or personal beliefs.[5] Likewise, she was a convincing liar, able to maintain an innocent façade among her family and friends regarding her involvement with events. She was also somewhat manipulative, able to easily influence her husband's decision-making to her or her collaborator's favor.
Having helped work at their small business with her husband, Mikina had a strong business savvy, enhanced by her observant behavior.[3] She therefore was able assert a great amount of influence on Keel, to the point some considered her as the real one controlling the Freezis Firm.[18] Although lacking any magical potential, Mikina was able to freely manipulate the vessels of sin due to being possessed by the Demon of Greed, making her an excellent handler for the vessels.[3] She also was skilled at playing the harp as befitting a woman of her breeding.[4]
Character Connections
[
]
Keel Freezis: Mikina's husband. Mikina loved Keel deeply, leaving her aristocratic lifestyle to be with him, and wished to aid him in his business endeavors. She acted as his partner when running the household, often advising him over what course of action to take, and had dealings with Prim in part to help him. Mikina would be haunted by guilt over the injuries she inflicted on Keel during her possession and cared for him until his death.
Yukina Freezis: Mikina's eldest daughter. Yukina was Mikina's favorite child and she loved her deeply, wishing to safeguard her from harm at any cost, although sometimes she would neglect her when looking after Shaw and Aile. Sharing her daughter's wanderlust, she also wasn't angry at her for leaving to discover the truth on her own, although was unnerved by the danger she was in as a result. Due to their relationship, it caused Mikina great pain to confess her wrongdoings to her daughter.
Shaw Freezis: Mikina's only son. Initially Mikina wished not to have the child during her desperate financial situation, but she loved Shaw deeply and often doted on him. She was willing to go to great lengths to protect the boy, such as attacking her father when he threatened to take him away, and became deeply unnerved when learning he was in any danger.
Aile Freezis: Mikina's youngest daughter. Mikina loved Aile deeply and took personal responsibility for the sickly girl's care, not allowing any servants to watch over her as a result of the incident with Shaw. She was willing to go to great lengths to protect her, such as continuing her association with Abyss I.R and Prim to spare her the consequences of her contract with the Demon of Greed.
Michaela: One of Mikina's maids. Initially Mikina did not care for Michaela, associating her with the Elphegorteans that had discriminated against the Freezis family and believing that she would cause trouble with her beautiful appearance. She became a fan of Michaela after listening to her sing, and came to regard her as family. When Mikina was forced to betray Michaela to Ney, she deeply regretted doing so.
Clarith: One of Mikina's maids. Mikina was fascinated by Clarith's Netsuma heritage and, as an immigrant of Elphegort, sympathized with the discrimination the latter faced. She was a fan of Clarith's cooking and was willing to trust her with taking care of Yukina; over time she came to regard Clarith as family, giving her comfort after Michaela's death.
Prim Marlon: A woman that controlled Mikina. Although initially grateful for Prim's aid with their financial troubles, Mikina grew to hate the former's influence over her after forcing her into a contract with the Demon of Greed. Mikina was unable to resist this influence due to fear of retribution towards her family.
Abyss I.R.: A sorceress that controlled Mikina. Mikina feared Abyss I.R and the trouble that she could bring down on her loved ones, and was thus willing to follow her schemes if it meant protecting her family. She became possessed by Abyss I.R for a short time and deeply regretted her actions during this period.
Trivia
[
]
Conceptualization and Origin
[
]
Mikina's maiden name may be derived from the Italian word sfarzo, meaning "pomp, splendor, or magnificence"; its spelling and romanization may also be a reference to the name of her representative Vocaloid, SF-A2 miki.
Mikina's name is inspired by the name of her representative Vocaloid, Miki, sharing the same four letters in its beginning.
Curiosities
[
]
Gallery
[
]
Appearances
[
]
References
[
]
↑ 2.0 2.1 The Daughter of Evil: Praefacio of Blue – Chapter 3, Section 1
↑ 3.00 3.01 3.02 3.03 3.04 3.05 3.06 3.07 3.08 3.09 3.10 3.11 3.12 3.13 3.14 3.15 3.16 3.17 3.18 The Daughter of Evil: Praefacio of Blue – Chapter 4, Section 2
↑ 4.0 4.1 4.2 The Daughter of Evil: Praefacio of Blue – Chapter 2, Section 1
↑ The Daughter of Evil: Praeludium of Red – Chapter 3, Section 2
↑ 8.0 8.1 The Daughter of Evil: Wiegenlied of Green – Chapter 3, Section 2
↑ The Daughter of Evil: Clôture of Yellow – Chapter 2, Section 2
↑ 10.0 10.1 10.2 The Daughter of Evil: Wiegenlied of Green – Chapter 4, Section 1
↑ The Daughter of Evil: Wiegenlied of Green – Epilogue
↑ The Daughter of Evil: Praeludium of Red – Prologue
↑ 13.0 13.1 The Daughter of Evil: Praefacio of Blue – Chapter 2, Section 2
↑ The Daughter of Evil: Praefacio of Blue – Chapter 3, Section 2
↑ 15.0 15.1 Epic of Evil: The Daughter of Evil Fanbook – Aftermath – Mikina
↑ Epic of Evil: The Daughter of Evil Fanbook – Aftermath – Shaw
↑ The Daughter of Evil: Clôture of Yellow – Chapter 1, Section 2
↑ The Daughter of Evil Schedule Book 2013 – 2013~2014 Calendar