Caspar Blankenheim was the Marquis of Toragay in Elphegort and the husband of Margarita Blankenheim. After marrying her for the purpose of receiving her family's wealth, Caspar openly cheated on his wife with multiple women. He became the first of Margarita's victims in the Toragay Serial Killings.
History
Early Life
Caspar was born on August 30, EC 588 as the eldest son of Marquis Karl Blankenheim. During his youth, his father arranged for him to meet many girls as marriage candidates; romancing them, he gave each girl a wooden ring and promised to marry them. Among those candidates was Margarita Felix; whenever she visited Caspar, he'd teach her how to capture insects and birds, how to climb trees and play by the water, how to hold hands, and how to kiss. He promised her the same promise that he made with the others.[1] At some point in time he befriended Cle Mence, son of the Marquis of Nianemu.
Years later, Caspar became the Marquis and he wasted his fortune on tobacco from Maistia and other luxuries; interested in acquiring Doctor Felix's wealth, influenced a political marriage between himself and Margarita, her arranged to marry her and bought her a bed before they were married, allying their two families and linking together their finances. He married Margarita at the local church and everybody in town celebrated, and even King Soil Elphen attended; Margarita and Caspar received many gifts during the celebration.
Soon after their marriage, Caspar learned about Margarita's Sleepless condition and refused to go to bed with her, instead taking on several mistresses, including Kriemhilde and Eleanor; he periodically invited his mistresses to his home, forbidding Margarita from entering his room when they stayed over. Yet he continued to waste all their money on tobacco, including the Fine brand, but as the Felix fortune began to run out he sold off several of Margarita's possessions for money.
At some point Caspar joined Père Noël and headed the black market in Toragay as "II. the Dealer" and he converted his basement into a warehouse to hold illegal merchandise; he also regularly met with another memeber of Père Noël, IV. the Shadow, as part of his dealings. He later introduced her to Margarita as his "business partner," "Elluka Clockworker." At some point Caspar began taking money from the black market and made claims that he was I. the Santa Claus.
During his operations he obtained the Freesis Fairy Tale "The Flower of the Plateau" and gave it to VI. the Venom. Some time later, IV. the Shadow visited Caspar and accused him of monopolizing the black market and betraying Père Noël, arguing with him before leaving. During this time Caspar invited over his mistress Kriemhilde and the two slept together.[2]
Toragay Serial Killings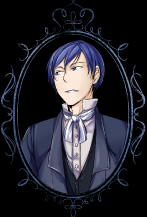 On August 30, EC 609, on his birthday, Caspar was offered a "
gift
" from his wife in the form of toast with trauben jam, which he happily shared with his visiting
mistress
.
[3]
Dying almost immediately, he and his mistress' bodies were discovered the next day, believed at first to be asleep.
[4]
Legacy
After his death, Caspar's name would be mentioned in news reports as having passed away and would be the first of many victims who were killed by his wife, Margarita. An autopsy after Caspar's death concluded that he died of tobacco poisoning, however the World Police and the Hanne Lorre investigated for foul play. Following Caspar's death, the police's investigation into Père Noël and the black market in Toragay came to a halt. He was given a Levin funeral on November 28th and all of Toragay attended, as well as King Soil Elphen and Cle Mence.
The Shuburke newspaper gave him a memorandum in honor of his life and achievements as Marquis, but it was cut short due to the outbreak of Gift in Toragay. By the time Elphegort hired the Freesis Foundation to investigate the incident, the city was already a ghost town.[5]
Personality and Traits
Superficial and greedy, Caspar acted selfish and cared little for Margarita.[6] Although making an important promise to her as a child, he had forgotten it by the time he married her.[7] The Marquis, more interested in her father's money than her,[8] openly philandered with other women in front of her.[9] He also appeared secure in his financial situation, demonstrating his disregard for his wife's welfare without believing it would affect his financial or social standing. Despite this mistreatment, Caspar had a great deal of faith in his wife and did not expect she would attempt to drug or murder him.[10]
Character Connections
Margarita Blankenheim: Caspar's childhood friend and wife. They used to be close, making a childhood promise to her, but as he grew up, he became more selfish and only saw her as a means to get rich. He preferred the company of more beautiful women to her. Nonetheless, he appeared to trust her judgement or loyalty to him, shown by accepting her "gift" to help him sleep at night. 
Trivia
Conceptualization and Origin
Caspar's name is derived from the Hebrew word for "treasurer"; traditionally, the name is assigned to one of the biblical Three Magi and translates as "Master of the Treasure".
His surname, Blankenheim, is the name of two German municipalities; Elphegort, Caspar's native country, is inspired by Germany.
In numerology, the name Blankenheim is associated with being emotional, sentimental, inquisitive, independent, and ruled by love, needing encouragement or affection when unloved and feeling unhappy when there is a lack of harmony.
Caspar's name is partially inspired by the name of his representative Vocaloid, KAITO, with Caspar's romanization beginning with the letters "ka".
Curiosities
Caspar, portrayed by KAITO, references his Vocaloid's other characters and their connection to Greed due to his name's meaning and the economical motivations behind his marriage to Margarita.
Despite this, he ironically exhibits traits of Sateriasis Venomania, who acted under the influence of the Demon of Lust until being murdered by Kachess Crim.
Gallery
Appearances
References