🛠

This subject is work in progress. Please bear with us while improvements are being made.
For information on how to help, please contact an admin.  More subjects categorized here.

🛠
For other uses, see Clockwork Lullaby (disambiguation).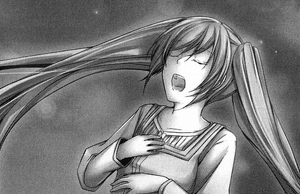 The
Clockwork Lullaby
[note 1]
 was a
spell song
used to detect magical power. Existing with twelve variants, one of its application was as a type of
detection magic
.
Mechanics
Edit
The spell song's tune was arranged in a distinctive "Lu Li La" pattern sung in a soothing melody. It also had twelve variants; one variant allowed the singer to pinpoint locations that contained large amounts of magic power over a wide area by echoing the sound across the area like a radar. In this variation, caster could also differentiate between types of magic detected, such as demonic presences.[1] Another variation existed that allowed the user to "seal" a target's actions.[2] The melody was also described as relaxing and healing for the heart.[3] Being quite versatile, the Clockwork Lullaby allowed for users to rearrange its lyrics and melody or add words to the song, presumably changing its effects.[4]
Conceptualization and Origin
Edit
A clockwork is a mechanical device that utilizes a complex series of gears to perform its function; in the Evillious Chronicles, gears often represent fate, destiny, and the passage of time.
A lullaby is a soothing melody, usually used for the purpose of putting a child to sleep, reflecting the calming nature of the spell.
Curiosities
Edit
Appearances
Edit
References
Edit
↑

ぜんまい仕掛けの子守唄
Community content is available under
CC-BY-SA
unless otherwise noted.