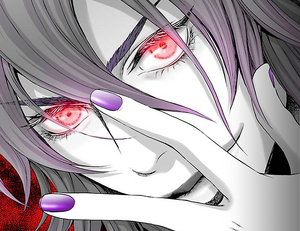 Brainwashing Magic[note 1] was a type of magic associated with the Demon of Lust which could influence the target's mind. A powerful and often terrifying art, brainwashing magic was difficult to counter for even experienced mages.
Mechanics
Brainwashing magic allowed the user to cast a spell over the target's mind that caused them to fall in love with the caster and become subject to their will, as well as causing them to lust after the caster to an enhanced degree. Targets were brainwashed via eye contact with the caster while they invoked the spell, which was distinguishable by a colored glow in the irises.[1] Aside from their new attraction to the caster, the target's memories and personality were typically left intact, including their memory of being brainwashed.[2] A caster was also, however, able to wipe the target's memories using the spell, including erasing specific individuals from the target's memory.[3]
Being a power of the Demon of Lust, those who made a contract with the demon using the Venom Sword could freely brainwash members of their preferred sex.[1] Contrarily, the caster could not alter the mind of an individual whose sex they weren't attracted to. Using an enhancement ritual, the caster could still cast a spell over a wider area in order to erase memories en masse for all individuals, but the ritual had a risk of backfiring if not performed correctly.[4] Brainwashing could be resisted by those with magical ability, particularly if their ability was very strong or the spell was not regularly applied to the target.[1] The effects also subsided if the user was seriously injured or killed.[5]
Users
Trivia
Curiosities
Mothy has confirmed that there has been no canon instance of a bisexual or homosexual Lust contractor, but that they theoretically could freely brainwash their preferred sexes as well.[6]
Brainwashing magic shares many similarities with Eve Moonlit's hypnosis powers in casting and its ability to alter memories, but differs in its specific effects; similarly, the magics come from two different sources.
Gallery
Appearances
References
Notes