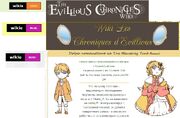 I just noticed that the
French Evillious Wiki
 and the
Russian Evillious Wiki
 are both filed under Wikia Music while our wiki is filed under Wikia Books. Which is interesting considering that fans of this series mostly start from the PVs and the songs and only recently have been diving deeper into the universe in the means of the novels.
It also makes you question if this series is supposed to be filed under Books or Music. The only other series I know of that involves the use of both media in substantial amounts is Kagerou Project, whose wikia is also filed under Wikia Music. They could probably be also filed under Wikia TV for having an anime like the Dragonball Wiki. But maybe they decided to define themselves by their roots and what made its fandom grow from null. And I think it would be reasonable for our wiki to follow suit in the category scheme. Unlike Kagerou Project, this series uses for the majority of the major characters, the designs of the Vocaloid avatars, which are singers, in a way. And it would just be fair for this series to owe its success to the Japanese music industry, where these Vocaloid avatars became famous and iconic for many of us.
However, it can also be noted that this series was the first Vocaloid series to have novels that developed the story in depth and have the creators increase their revenue. Considering that the albums are published and sold exclusively for the Japanese market, it seems to be a great idea to make use of this demand by the fans for stories beyond music videos to make more money. And this series, Evillious Chronicles, made an excellent job in having a place in the literary market of Japan. The books have been an essential element for the fandom to become active and share opinions about character development almost as if the songs are just second in importance. And that is what I believe. Although the songs mark the start of new sets of stories and eras for us to be informed about, I think the heart of the series is in the books.
So overall, I have no objections to this discrepancy. Both sides have a point but I think Wikia Books would do for a category for our wiki.